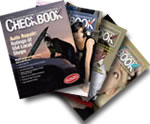 WTOP has a story on hiring contractors to remove downed trees. In it, the reporter talks to Checkbook magazine for tips on what questions to ask and what kinds of problems you might expect.
What they didn't do is provide a link to Washington Consumer's Checkbook magazine – one of the best magazines any homeowner can subscribe to.
From their website – here's what they are:
CHECKBOOK is a Unique Rating Service:
Nonprofit & unbiased
Accepts no advertising
Prevents ballot-box stuffing
Price comparisons
Quality comparisons
Expert articles and advice
I have researched waterproofing companies, appliance repair companies, tree service companies, pest inspection companies…and have always felt the information I got back was well worth the $34 for 2 year subscription.
From their website – here's what you get for your hard-earned $34:
With a CHECKBOOK subscription, you get:
Immediate online access to the current issue of CHECKBOOK, and two years of new reports, ratings, and advice
Immediate online access to CHECKBOOK's Neighbor-to-Neighbor information exchange, where subscribers share recommendations and comments on specific businesses
Immediate online access to Checkbook's guides to Top Doctors, Hospitals, and Diseases & Treatments information
Four comprehensive semi-annual print issues, plus newsletter updates between each issue, mailed to you
Subscriber-only discounts on ratings categories in the CHECKBOOK archive
I repeat. Subscribe Now. Since they don't accept advertising, they need your subscription to keep providing this excellent service.
(c) 2011 Susan Pruden